Forthcoming Major Events

See below!
Helplines
Beyondblue  24 hr 1300 22 4636 
Lifeline  13 11 14 
Suicide Call Back Service 1300 659 467
Men's Line 1300 78 99 78 
Veterans Line 1800 011 046
Men's Referral Service for help to avoid
domestic violence: 1300 766 491 
Emergency Services   000
Grief Line 03 9935 7400 12-3pm 7 days
Pain Management Line: 1300 340 357
Sane Australia: 1800 18 7263
Mind Australia Carer Helpline:   1300 554 660
Gentlemen, 
AMSA has asked us to host the Governor General of Australia, David Hurley, and his wife at our shed as part of Men's Health Week celebrations.
The Governor General with be at the Shed on Thursday 18th June arriving at 10.30am to spend an hour meeting members and touring our facilities.
We will also be joined by Paul Sladdin, President of AMSA and Stuart James the Mayor of Monash.
Each building is able to hold 20 people plus our guests, but please don't be disappointed if you are not able to access the shed facilities.
Computer Group
The computer group starts next Tuesday 15th June at 10.00am.
We have a tutor Daniel Roper who will be in charge of the weekly session.
The session will involve the Be Connected program information and usage. The session will also allow any general computer training and advice.  Daniel will be supported by other shed members.
The two hour session will be run each Tuesday until further notice.
Boss Cocky
The welfare team have developed a timetable for a Boss Cocky to open and close the shed.
The Boss Cocky acts as the person in charge. The roster will be available shortly and will continue until further notice.
The roster will be managed by Welfare Team Leader Phil Terry and a meeting will be arranged shortly for those new to the role.
Phil Terry
Welfare Team Leader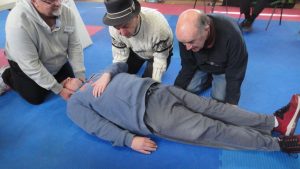 Our Health Partners.
We warmly acknowledge those who partner or have partnered over the years with us in various ways: Diabetes Australia (Vic), Scope Victoria, Link Health & Community, Amcal, PALS, Council Home Care, Halcyon, Holmesglen TAFE, Centrelink, Alzheimer's Australia, Stroke Foundation, Eastern Health, Monash Health, Wavecare, Wavlink, APMA, Prostate Foundation Support Groups, Melanoma Institute, Black Dog Institute, Ambulance Victoria, Asthma Foundation, Australian Hearing, Waverley RSL,  Victoria Police, MFB, Royal Flying Doctor Service, Donate Life, Pinewood Primary School.
Health Days
The shed hosts about four health days a year to give us informed advice on topics of interest to ourselves and our families.
Monash Men's Shed partners with quality Health & Community services on a quarterly series of health days.
Previous Health Days include flu injections, first aid courses, talks on diabetes, hearing loss, prostate cancer, bowel cancer, skin cancers, and the services that pharmacists offer.
The shed also hosts about regular informal events on men's health matters.
The Monash Men's Shed is a registered Health Promotions Charity. Investing in men's health with us is tax deductable.
Recent health event in 2020

STROKE, Its Causes, Symptoms, Treatments & Rehab
Held at 12.00 pm Tuesday 11 February 2020

Speaker : Graeme Hilson, President Monash Stroke Support Group

At Bogong Hall on Bogong Reserve 77 BOGONG AVE GLEN WAVERLEY
Upcoming Health Days: